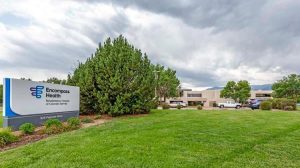 This is the third in a series of blog pieces written for and reviewed by the Charging Parties which explains their ordeal 
The CEO, the Head of Human Resources and the Therapy Team Leader Threaten to Fire Women who Complain about Sexual Harassment at Encompass, a Major Hospital Chain 
The CEO and the Director of Human Resources at Colorado Springs were required to report to Headquarters that they were receiving numerous complaints of sexual harassment perpetrated by the same provider who had been the subject of the sexual assault allegation. 
Instead, CEO Schaefer did literally everything within his power to prevent these complaints from seeing the light of day. He gave orders that the women complaining should see himself rather than the Director of Human Resources, Vaughn. This was contrary to Encompass's sexual harassment policy, and further evidence of his intent to hide what had gone on for years. None of the women ordered to make their complaints to Schaefer observed him taking notes. 
Schaefer instructed the Therapy Team Leader, Sarah Yoder, to tell the women therapists that he had "a list" of people who were complaining about sexual harassment committed by the Provider. They threatened the therapists that Encompass would invent false reasons to terminate them if they continued to complain about the provider. Yoder told one therapist that her name was on the list, and if the complaints did not stop, Encompass would fire her for "stealing time," or for some other false reason. She added that she could "protect" the therapist, but only if she stopped complaining about the provider's sexual harassment. 
Yoder told one therapist that unless she "knocked it off," meaning complaining about the provider's sexual harassment, she and other therapists would be fired. Yoder named several Case Managers who she claimed were already slated for termination, because they complained. 
When another therapist tried to meet with Schaefer a second time to tell him the provider was still sexually harassing her, Human Resources Head Vaughn told her, "my advice would be to just drop this." 
Human Resources Head Vaughn called one of the therapists on her personal cell phone off-hours and warned her not to recruit women to complain about the provider. 
Encompass does not deny this. In a statement to the EEOC, which is investigating the Charges, it states that: 
After meeting with the Claimants, Ms. Vaughn received a phone call from Ms. Yoder. Ms. Yoder was concerned because she had received complaints from some of the therapists that they were being pressured by [name redacted] to make complaints about [the provider] and [name redacted] was making them feel uncomfortable. Ms. Yoder spoke with [name redacted] advising her to stop pressuring employees because it was making some employees uncomfortable. Ms. Vaughn called [name redacted] and also asked her not to pressure employees and assured her that an investigation was underway. 
Encouraging other women to make complaints if they were sexually harassed by the provider is what is known as "protected activity"—because it is protected under federal law including Title VII and the National Labor Relations Act. In the two decades this firm has litigated sexual harassment case this is the first time it has seen an admission that the Head of Human Resources had told anyone they could not recruit or encourage other employees to make complaints of sexual harassment. The job of Human Resources is to prevent such intimidation. 
This was a coordinated effort by Schaefer, Vaughn and Yoder to frighten the Complainants into dropping their complaints. Nonetheless by February 6, multiple women had told Schaefer and Vaughn about sexual harassment the Provider was currently engaged in, and his prior sexual harassment spanning years. 
As a result of the allegation that the Provider had sexually assaulted one of the Complainants, because he continued to paw them, therapists and Case Workers were refusing to work with the provider out of pure fear for their safety. 
Incredibly, CEO Steve Schaefer—whose job required that he protect women from sexual harassment and violence—declared that "any woman who refused to work with the provider when needed should look for work elsewhere." 
Encompass' solution to the staffing shortage is unprecedented in its lack of concern for the safety and mental health of the alleged victims of a long-term sexual predator who they charge operated with impunity for eight years.  
In a gesture of compassion for her fellow female colleagues—who were given the choice of experiencing more sexual trauma or being fired—one Case Manager offered to work on the Provider's team. This allowed her colleagues to keep their jobs and avoid further trauma. She made herself a human sacrifice. 
Rather than putting a halt to the Provider's sexual harassment by at least suspending him pending investigation, Encompass chose the more expedient and profitable option: accepting her offer of sacrifice. She was placed on the provider's team for him to continue his physical sexual harassment. 
On February 6, 2023, Schaefer, Vaughn and Regional Human Resources Director Rosene met and affirmed the order that anyone refusing to work with the provider could look for work elsewhere—notwithstanding that four women had reported to Schaefer that the provider was continuing to touch them inappropriately (in one instance after the Charging Party directly asked him to stop). As disgusting as this is, it is even more troubling that Rosene was in contact with the Encompass Headquarters' Labor and Employment attorney, and rather than overriding Schafer and Vaughn's decision, he ratified it. 
As time passed and Rosene belatedly began to ask a couple of questions which should have been asked at the latest when Encompass received the written complaint on December 9 (which detailed three years of previous verbal and physical sexual harassment of women who worked with the provider), Schaefer mischaracterized the complaints he and Vaughn were receiving as relating to "old" conduct that had affected only a couple of women. Vaughn—the Human Resources representative who was one of the instruments of silencing new complainants about sexual harassment by the provider—corrected Schaefer, reminding him that some women were complaining of recent sexual harassment which had not been investigated. 
Still Schaefer tried to maintain there were only a couple of isolated complaints. 
Encompass could not put the genie back in the bottle once it was out. In the face of Vaughn's admission, and as Rosene cautiously enquired whether what Vaughn had said was accurate, Schaefer finally acknowledged there were many women complaining about current and prior sexual harassment which had not been investigated. 
It is difficult to quantify the amount of trauma which could have been avoided had Encompass followed its own policy, and the law of the United States and Colorado, and investigated when it plainly knew of the sexual harassment based on observations of  managers/supervisors, and warnings to potential victims, or when it later received the female victim's complaint on December 9. 
In addition to the continued unwanted touching, fear and re-traumatization, sometime after the provider returned, the female victim experienced a psychotic break requiring her hospitalization. 
Rosene did not share CEO Schaefer's and Vaughn's admissions with the women who were fighting to keep their jobs after reporting sexual harassment. Consequently, on February 8, 2023, in an attempt to bypass the retaliatory threats, coverup and intimidation orchestrated by their CEO, ten brave women signed an email addressed to Dawn Rock, Director of Compliance, at Encompass Headquarters, demanding that CEO Schaefer and the Provider receive discipline, and alerting her to the retaliation and threats they were facing. It stated that: 
Nearly 12 people have come forward with their personal experiences of sexual harassment and being inappropriately touched at work, all of which create a hostile work environment. We spoke multiple times with Stephen Schaefer, CEO and Angela Vaughn, HR Director about this matter yet no meaningful action has been taken to address the situation.

We ask that appropriate disciplinary action be taken against the perpetrator and the person who continues to protect him – Stephen Schaefer.
As a result of Yoder's and. Vaughn's threats, the email to the Director of Compliance pointed out that: 
Despite agreeing with the message of this email, at least 10 other individuals opted not to attach their names for fear of an increase in retaliation that they are already experiencing in their respective departments. 
Encompass Headquarters Belatedly Investigates Whether the Provider Has Been Sexually Harassing Women, but Ignores Local Management's and Human Resources Successful Intimidation of Therapists, Preventing them From Filing Charges with the EEOC 
 Only after the letter-writers managed to catch the attention of Encompass Compliance did Rosene begin actually investigating the December 9 complaint, two months later, by meeting with the employees who worked with the provider. 
Rosene asked one of the Complainants who was also a manager whether there was any senior person at the hospital who was unaware of the Provider's sexual harassment. She responded "no," and gave examples of what other managers had witnessed. That same manager was told by Schaefer and Rosene that her interactions with the provider—when he made comments like "if we had sex it would be rough sex, right—were "consensual." 
Rosene minimized the significance of the retaliatory threats. He called it "strange" that Yoder would refer to a list, but ultimately decided not to take it seriously, since no physical "list" of targeted employees probably existed. He would not even to commit to asking Yoder whether she had threatened anyone with termination. Such obliviousness by a Human Resources professional who had been with Encompass since the HealthSouth/Robert Scrushy scandal is hardly believable. 
One would expect that Patrick Sullivan, the labor and employment lawyer at Encompass Headquarters to whom Rosene was reporting, was briefed by Rosene on his interviews. Nonetheless, Schaefer, who had orchestrated a cover up by threatening dedicated medical personnel with firing, retained his job. Although Rosene was aware that Schaefer and  senior management had known for years about the provider's sexual harassment no action was taken against Schaefer, no investigation made known. 
Finally, two and a half months after written notice of what senior management had known was going on for years, on February 20, Rosene recommended to the Medical Executive Committee that the provider no longer work at the hospital. On February 28, Schaefer emailed staff that the provider would not return. 
March passed and Schaefer remained CEO. By then, four women including the alleged sexual assault victim had filed Charges of Discrimination with the EEOC. However, there were multiple therapists who wished to file Charges with the EEOC but who had been so intimidated by Yoder's threats of termination for false reasons and Vaughn's late night call, they chose not to file. Some Case Managers and Therapists chose to resign rather than work in the environment Schaefer had created. 
On April 7, 2023, through their counsel, the Charging Parties wrote to Patrick Mulligan, Associate General Counsel for employment and labor at Encompass Headquarters—the Encompass Headquarters attorney who should have been supervising a competent and timely investigation, that: 
The Charging Parties demand that CEO Stephen Schaefer be suspended pending the results of a truly independent investigation into his conduct. If a satisfactory investigative firm is agreed upon, the Charging Parties will work collaboratively with the investigative firm. Until CEO Schaefer is suspended and an independent investigation is undertaken, the exodus of women currently staffed at the Colorado Springs facility will continue. 
The exodus of therapists and case workers continued. 
Months later, on June 13, Encompass quietly informed employees at the Colorado Springs hospital that Schaefer was no longer employed. 
Within weeks of Schaefer's exit, and the threat of baseless retaliatory termination thereby seemingly lifted, five of the therapists who had been threatened or had heard of the threat filed Charges of Discrimination with the EEOC. 
The Provider continues to work in Colorado in the medical field. 
What happened to the Charging Parties represents a sorrowful failure by Encompass Headquarters to react to the written complaint it became aware of on December 9, when they received this information: 
 Over the last 3 years of working for Encompass, I have continuously observed [the provider] making inappropriate/sexual comments to and about women while at work. He also has always found opportunities to come up behind me and place his hands on my back or shoulders when I'm not expecting it. I've also observed him do this kind of inappropriate touching to other women on countless of occasions, in addition to my own experience. There has also been an observed pattern where [the provider] has continuously brought up sex and sexual topics at work in front of myself and other women. 
They left him in place and nine women allege in their Charges he continued preying on women, notwithstanding that they told their CEO and anyone they could: "he is still at it." 
After a former employee posted a link to the first blog piece, the Interim CEO of the Colorado Springs hospital held what could fairly be called a damage-control meeting. She revealed that she had sought talking points from Encompass' legal counsel. Rather than encouraging employees to use "talking points" in defense of Encompass, this meeting was the perfect opportunity to encourage any employees who still needed to file an EEOC Charge, to do so without fear of reprisal. That was not said. 
If you work at an Encompass hospital and have information concerning other failures by Encompass to promptly end a hostile work environment—whether sexual harassment, racial harassment or some other kind of illegal harassment—please feel free to speak with us confidentially. 
Click here for the first blog piece:
Encompass Health, a Major National Chain of Rehabilitation Hospitals, Faces Serious Charges of Sexual Harassment
and here for the second blog piece:
Harm Caused by Encompass's Failure to Follow its Sexual Harassment Policy