Friedman & Houlding LLP clients Derick Brown, Atiba Flemons, and Jeffrey Taylor, have brought a Class Action suit on behalf of Black employees at the University of Illinois at Urbana-Champaign, alleging that the University has a pattern or practice of tolerating racial harassment against its Black employees, and that the office charged with investigating complaints of racial harassment is itself discriminatory in its handling of complaints.
One former Office of Access and Equity (OAE) Investigator, a non-party witness in the lawsuit, testified that she "was working in a hostile work environment," describing the reasons that she left her employment at OAE (formerly ODEA), the office charged with investigating complaints of harassment and discrimination at the Urbana-Champaign campus. Referring to Director of OAE, Heidi Johnson, the witness testified, "It was my perception and I believe the perception — because it was told to me by other colleagues, that Heidi favored our white colleagues."

The witness testified that she did not think Director Johnson treated employees of color in OAE equitably, describing Johnson's indifference on issues concerning diversity and inclusion and personnel actions driven by bias, including stripping away the title of the witness, a person of color, without a stated basis, favoring White employees with less experience for promotions, and issuing the witness with a baseless disciplinary action. This treatment ultimately drove the witness to leave the University of Illinois after working many years as an OAE investigator.
The former OAE investigator's testimony comes after Johnson allegedly told a member of the putative class that OAE could not hire her because she "only had experience working with students of color," and Johnson preferred a candidate who had "experience working with the majority population on campus," which was White.
In addition to detailing her own experiences of enduring bias at OAE, the former OAE investigator testified that both Director Johnson and the campus legal department routinely overrode OAE investigators' findings as to whether the campus's nondiscrimination policy was violated. Moreover, the witness could not recall a single investigation of racial harassment handled at OAE that resulted in a determination that the Campus's nondiscrimination policy was violated.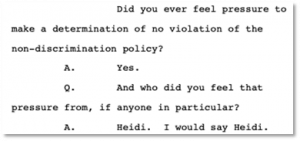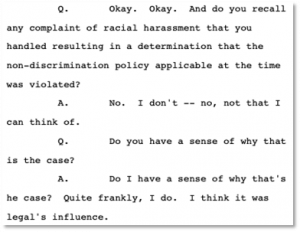 As alleged in the Complaint, employees' exposure to the "n" word, swastikas, confederate flags, nooses, and racist graffiti were found not to violate university nondiscrimination policy. For example, Plaintiff Derick Brown testified that a White co-worker donned a KKK hood while other White co-workers and Mr. Brown's White supervisor looked on and laughed. Brown testified that this was corroborated by a third-party witness, yet OAE concluded there was no violation of the nondiscrimination policy.
"I think the findings was the low point of my life," Brown testified. "How can you not say that's racial when the KKK hood over a guy's face that are all white? And that's not racial to a black man? And they find it not racial?"
Related Coverage:
UI – Racial Harassment is Standard Operating Procedure
ISG Response to Racial Harassment
Suit: UI Allows Racial Harassment Threats
Employees cite discrimination and retaliation in suit
New Lawsuit Alleges Racial Discrimination at the University of Illinois